Peter Whittingham Artist Development Day
Everything you need to know to plan your day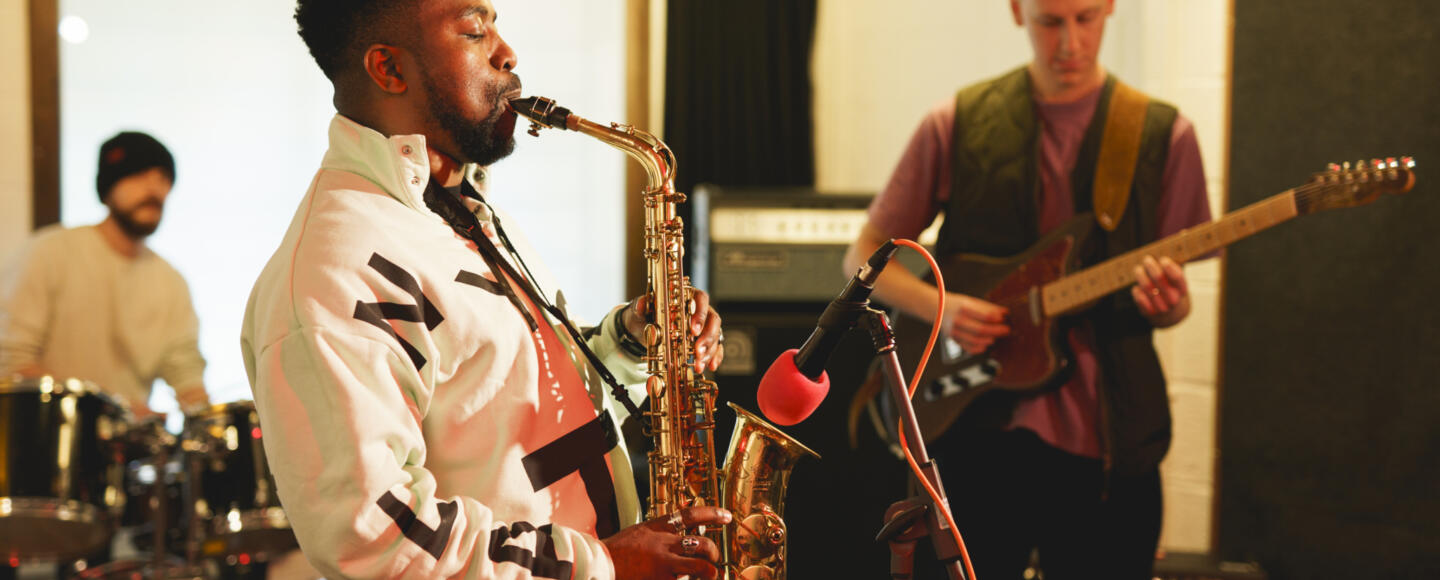 This guide will tell you all you need to know about what to prepare for the Peter Whittingham Jazz Award Artist Development Day, how to get there and what to expect.

Please reference your schedule for the timing of your panel performance and business development session.
If you need to contact a member of the Help Musicians team on the day please call 07496 729673
or email panels@​helpmusicians.​org.​uk.

We look forward to meeting you!
Location
Woolwich Works, The Fireworks Factory, 11 No. 1 Street, Royal Arsenal, London SE18 6HD.
Please come to the main entrance on arrival.
Map
Find Woolwich Works on the map.
Transport
The closest station is Woolwich on the Elizabeth Line (3 minute walk)
Also close by is Woolwich Arsenal on the Docklands Light Railway (DLR) and National Rail (7 minute walk)
Bus routes: 51, 96, 122, 161, 177, 180, 244 stop on Plumstead Road, Woolwich New Road or Burrage Road (10 minute walk)
The Heritage Centre Car Park is a pay-and-display car park behind the venue, a 5 minute walk from the main entrance. Blue Badge holders can park on any double lines within the Royal Arsenal around Woolwich Works for 3 hours, including New Warren Lane (SE18 6NF), and Duke of Wellington Avenue (SE18 6SS).
For more information on travelling via public transport and to plan your journey visit Transport for London.
Travel Expenses
You can claim up to £200 per group (3 or more members) or £75 for an individual if you are travelling from outside London, or £120 if you're travelling from Scotland or Northern Ireland. Pick up an expenses claim form during the day or email panels@​helpmusicians.​org.​uk requesting one.
Make sure you email a copy of your receipt as well as the expenses claim form to panels@​helpmusicians.​org.​uk.
Venue Accessibility
The venue is fully accessible. If you have any concerns about accessibility, please get in touch with us.

You will be asked to perform two contrasting pieces of up to 10 minutes of music. At least one of these needs to be your own composition/​improvisation.
This will be followed by a few questions from the panel. The questions could be about your performance, your career to date or about your project proposal and future plans, therefore please come prepared to talk about your application. This will also be an opportunity for the panel to offer any advice they might be able to give on your proposal and future plans.
Special notice: Peter Whittingham's Family, Help Musicians' Donors, panellists and stewards will attend the Artist Development Day. Please be aware that there may be additional people present during your performance. We will always ensure the room isn't overcrowded and that there is no more than 10 people in the performance room at one given time.

Equipment and backline available:

Drumkit (

22

×

16

,

12

×

10

,

13

×

11

,

16

×

16

)

3

x cymbal stands (

2

boom,

1

straight), snare stand, hi hat stand, stool and pedal

2

x keyboard stands

2

x combo guitar amps

1

x combo bass amp

4

x mics

1

x weighted keyboard

12

x music stands
Please bring breakables (i.e. drum sticks/​cymbals). Music stands will be provided.
Please send your tech spec to panels@​helpmusicians.​org.​uk

Tops tips for preparing for the day
We know that in-person auditions can be a nerve-wracking prospect, so we have created a list of top tips to consider when preparing for your audition.
Time your programme in advance and make sure you are sticking to the given time limit of ten minutes. The panel will prefer you to have planned your programme to fit the time allowed, therefore if your programme is currently longer than this, you may want to find a suitable cut to ensure you stick to time.
Follow the instruction brief given. For example: We ask you to perform two contrasting pieces during your panel performance.
Play your programme through. You may even want to wear your outfit to make sure you are completely comfortable with what you are hoping to wear. Wear clothes you are comfortable in but do make sure you are dressed for the stage. For example, don't wear shoes you are unable to walk in or a jacket that restricts your movement
Drink lots of water to keep hydrated, not just on the day of your audition but the days leading up to it.
Eating carbohydrates the evening before and in the morning of your audition will give you the energy you need to get you through your performance. Preparing for a performance can feel like preparing for a big sporting event.
Don't rush and allow extra time to travel to the venue
Arrive 10 minutes early to give yourself plenty of time to warm up; remember to let us know when you arrive.
Note down the team's mobile number. If you are running late, call or text us to let us know on 07496 729673. If you are suddenly unable to attend your audition, let us know as soon as possible.
Introduce yourself and greet the panel on arrival into the audition room. If you have made any changes to your programme tell the panel before you start.
Managing performance anxiety
Performing in front of a panel can be daunting, so we are offering you the opportunity to attend an hour-long online group session with a performance anxiety specialist, Lucy Heyman, ahead of your performance. The session should help provide you with the tools to build up resilience for performing at auditions. Following the session there will be an opportunity to be able to ask any follow-up questions on a one-to-one basis.
The session will take place at 11am on Tuesday 14 November.
Please reply to panels@​helpmusicians.​org.​uk to confirm your attendance by no later than Monday 6 November.
If you are applying as part of a band, you and your band members will be able to attend this session – please let us know the names of those who will be attending.
If you are applying as a solo artist but have players joining you on the day, only you will be able to attend the session.

Your business development session
Alongside your panel performance, you also have the opportunity to receive an hour 1:1 business advice session with Justin McKenzie from Jazz re:freshed or Celetia Martin from Tribe.

Your session will explore:
How to create long-term career goals
How to achieve these goals
How to development sustainable income streams
With these topics in mind, please send us five questions you would like to discuss in this session. Please submit your questions by 9am on Monday 6 November
We will match you with a business advisor based on your schedule. You will not be able to swap advisors on the day.

Get to know Help Musicians
During the day you will have the chance to talk to our Engagement Team and learn about the lifetime of support and services available from Help Musicians. Don't leave without asking for a tote bag!