Joining Co-Pilot: the Musicians' Mentoring Network as a mentee
Take the next step in your career, supported by an experienced mentor you can learn from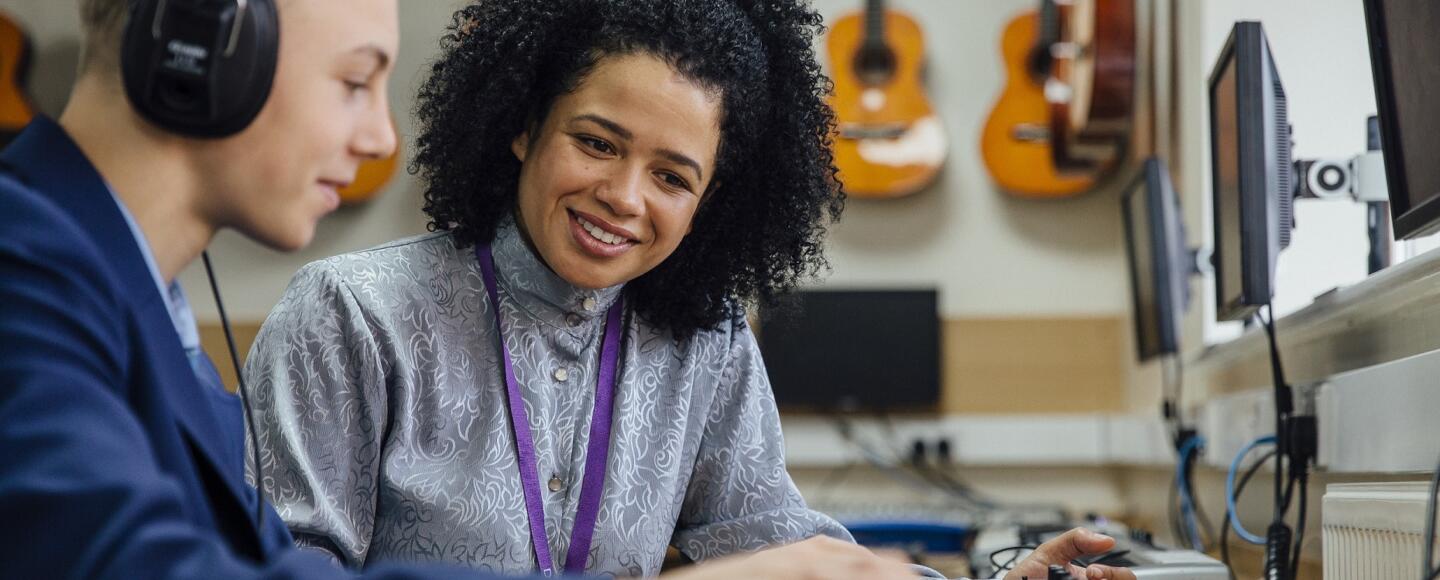 Applications for new mentees are now closed
Co-Pilot is much more than mentoring. Co-Pilot is designed to empower musicians to take the next step in their careers, supported by an experienced co-pilot they can learn from.
As a mentee, you will receive:
Free access to a one-to-one specialist music industry mentor for

8

hours of online mentoring.
Access to networking opportunities through regular peer-to-peer sessions.
Opportunities to develop your career by attending online sessions delivered by expert practitioners.

Online resources, including the Co-Pilot digital guidebook, induction videos and signposting to further Help Musicians support.
Ongoing support from Co-Pilot's mentoring team.
There's no blueprint to being a musician, so the guidance you might need to move your career forward will be unique to you and your journey.
You might be looking for guidance on:
Developing your brand (professional identity)
Diversifying your income
Advice on next steps for recording and releasing
Building a stronger network
Advice on building a team
Improving musical skills
Building an audience and digital marketing
So, if you've got a music project you'd like to develop, would value input from someone more experienced and have the time to invest in your own career, then you could benefit from being mentored.
To apply to be mentored as part of Co-Pilot: the Musicians' Mentoring Network, you must:
Be a professional musician of any genre or discipline, who already has an active career and can clearly demonstrate your work to date. You can be a solo artist, composer, group member, songwriter, producer or multidisciplinary artist.
Be aged over

18

Be in financial need without significant backing (i.e. not receiving significant financial backing from a label, publisher or private investor, and not having £

16

,

000

+ in savings)
Have an active music project or have identified an area of your career to discuss during mentoring sessions
Be able to commit to Co-Pilot activities and have time to put learning into practice between mentoring sessions
Have the right to live and work in the

UK

Currently be living in the

UK

Not have completed Co-Pilot as a mentee in the last

12

months.
What should I expect from mentoring?
All mentees are expected to:
Attend a compulsory

90

-minute welcome webinar over Zoom on Tuesday

12

December from

12

pm — 

1

.

30

pm

Read the Co-Pilot guidebook and watch the induction videos
Meet your match during a

30

-minute chemistry session
Complete

8

hours of mentoring over

6

months (via one-to-one video conferencing)
Respond to a midpoint and final evaluation survey
Attend peer-to-peer networking opportunities (optional)
Attend expert practitioner webinars and business skills workshops (optional)

Co-Pilot is a voluntary network, and no fees or expenses will be paid to mentors or mentees. The ambition is for the network to remain free for mentees, removing any potential financial barriers and making it accessible to all.
Co-Pilot mentors are volunteers and play a wide range of roles, including being a champion, guide, role model, professional friend, sounding board, thinking partner and bringing constructive challenges to mentoring relationships to help mentees transform their views, knowledge and learning.
Successful mentoring is a two-way learning relationship, where both the mentor and mentee get something out of working together. Mentors are not expected to share their contacts, open industry doors, create opportunities or deliver services to mentees.
Co-Pilot is a mentee-led network where mentees submit the match requests and are responsible for scheduling and deciding the direction of the sessions. Mentees must come to sessions with topics to discuss, ensure they take notes to maximise the value of the sessions and be prepared to invest time in working towards their goals between mentoring sessions. If you don't have an active project or area of development you are ready to work on over the coming 9 – 12 months, then it is advisable to wait until the next round of applications before applying.
Mentoring can be a hugely rewarding experience to help you to drive your career forward, you can:
Receive practical advice, encouragement, and support to take your career to the next level
Identify your goals to help you to make your next career steps
Build confidence and feel empowered to make decisions
Gain insights, and develop your communication skills
Develop a mentoring relationship with enthusiasm and a willingness to focus, learn and grow
Where will it take place?
In order to make mentoring as accessible and as geographically inclusive as possible, Co-Pilot is an online network. Mentors and mentees can be located anywhere in the UK.
To apply, all participants must have access to the internet, a laptop or desktop computer, and be comfortable using video conferencing platforms and an online mentoring system to conduct matching, communicate and arrange mentoring sessions.

A online mentoring platform called MentorNet
The MentorNet messaging mobile app
Regular peer-to-peer sessions on Zoom
Mentoring sessions, arranged by the mentor and mentee, usually using video conferencing software
There are 4 Co-Pilot mentoring groups each year. Once your application has been accepted, you will be provided with full details of the next intake and informed of the next available mentoring dates.

Before mentoring begins, mentees are expected to attend a welcome webinar, read through the Co-Pilot guidebook, watch the induction videos and submit match requests with their preferred mentors. The recruitment, training and matching process takes roughly 3 months, and once you're matched you'll attend a chemistry session with your mentor and start your 6 months of mentoring.
| | | |
| --- | --- | --- |
| Stage | Activity | Timeline |
| Stage 1 | Recruitment, Training and Matching | 3 months |
| Stage 2 | Mentoring Sessions & Midpoint Evaluation | 6 months |
| Stage 3 | Final Evaluation | After your mentoring has ended |
It is important that mentoring participants get the best possible match based on their skill sets. If a suitable match cannot be found during the first round of matching, we may move participants to the next mentoring group. For this round we are looking for 35 mentoring pairs. We will endeavour to match everyone with the most appropriate match, but we may not be able to find a suitable match on every occasion.
There is an opportunity to invite co-applicants/collaborators to your application, such as an assistant, carer or manager. A co-applicant can view or edit your application but you must submit it.
If you have a disability which means that you cannot fill in the application form, please contact the team at Help Musicians by emailing support@​helpmusicians.​org.​uk with the subject ​'access enquiry'. If you find it difficult to fill in application forms you can send a video application in instead, using the Help Musicians' application portal.
What happens after I apply?
You will receive a confirmation email once you submit your application. If you haven't received this, please get in touch with support@​helpmusicians.​org.​uk and we will check for you. You will receive an update regarding the outcome of your application within 8 weeks.
If something has changed in your plans after having submitted your application, please email Co-Pilot's mentoring team at support@​helpmusicians.​org.​uk.
Please ensure that you have read the guidance in full and that you are eligible and able to commit fully to this mentoring network before applying. Only applicants who can demonstrate a need for mentoring will be considered.
Applications for the next round of Co-Pilot are now closed.
We recommend signing up to our mailing list to be the first to hear when applications open. We will send you emails with the latest news and opportunities for support.
By subscribing to our newsletter you agree to our privacy policy.