Joining Co-Pilot: the Musicians' Mentoring Network as a mentor
Information and guidance for anyone thinking of applying to become a mentor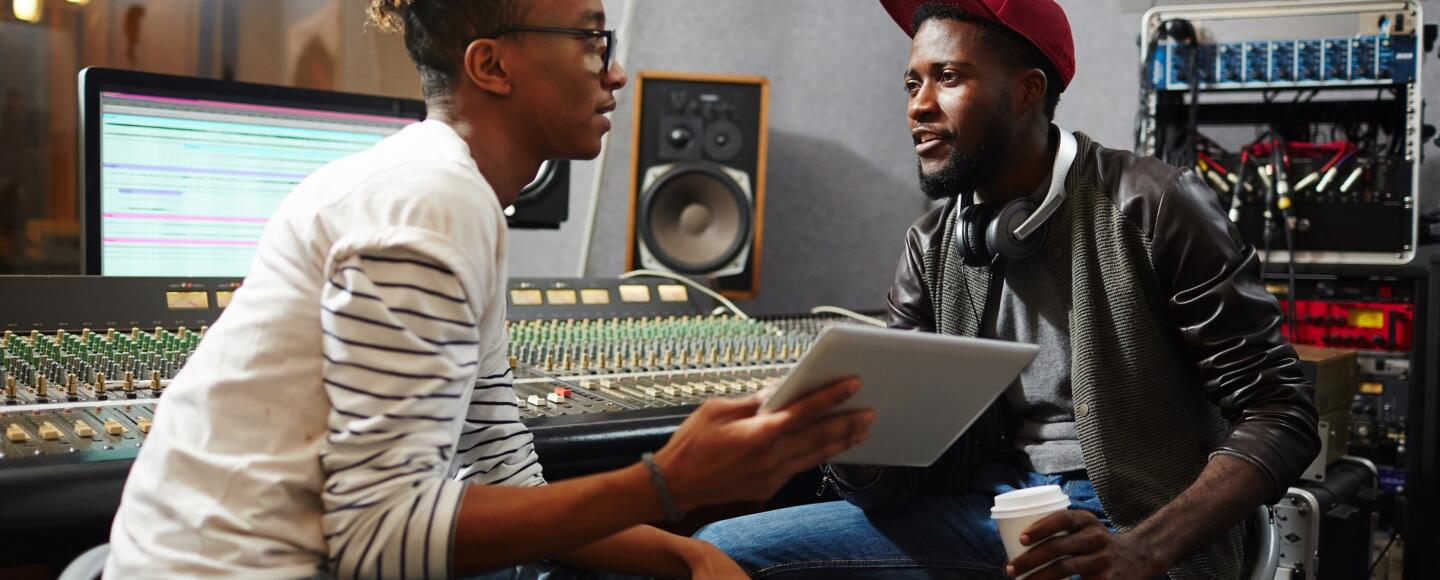 Applications for mentors are always open
Each musician's career path is an individual one; therefore, musicians need tailored support to be empowered to follow the right creative and professional journey.
Mentoring is important because it can provide the individualised and targeted support musicians need at different stages of their careers.
Co-Pilot brings together performers and industry professionals, providing a space for informal learning — encouraging conversations, opportunities and advice — all tailored towards a musician's own situation.
Successful mentoring partnerships can change lives by drawing out and developing talent, providing career development advice and the impetus for lifelong professional relationships.
Can you help a musician to reach their full potential?
Can you encourage and inspire a musician to take the next steps in their career?
Can you use your expert knowledge and lived experience of the music industry to support a musicians' creative and professional development?
Can you listen, provide guidance, and offer constructive feedback in an open, honest, and diplomatic way?
Can you commit to a mentoring relationship with enthusiasm and a willingness to learn, share your skills, knowledge, and expertise?
If this sounds like you, then you could be a mentor.
To apply to be a mentor in Co-Pilot: the Musicians' Mentoring Network, you can be an independent music professional or be an employee or member of one of Co-Pilot's partners.
You will have five years of relevant experience in the music industry OR be able to demonstrate sufficient industry knowledge and understanding to support mentees with a range of skills and expertise to develop their creative and/​or professional practice.
We know that mentees fall into three main categories:
Those that have a specific task with which they need help to further their career right now.
Those that have areas of knowledge and experience they want to develop.
Those who are looking for advice to help them to determine where they might go next.
The type of support mentees look for includes but is not limited to:
Personal brand development
Diversifying or sustaining income
Recording and releasing
Building a team
Improving musical skills
We are therefore looking for mentors with a breadth of skills, experience, and diversity. Mentors could be from a range of backgrounds including but not limited to:
Marketing and communications (including branding,

PR

, social media)
Diversifying/​sustaining income (royalties, publishing, sync licencing)
Recording and releasing music (understanding the various stages of the process)
Networking (increasing their knowledge of the sector)
Building a team (manager/​agent/​label/​publisher/​producer)
Artistic development (including composition, co-writing, songwriting).
To apply to Co-Pilot as a mentor, you will:
Be a musician or music industry professional
Have at least

5

years of music industry experience or equivalent knowledge
Be available to offer

8

hours of remote mentoring on a voluntary basis to a musician based in the

UK

Be passionate about helping others navigate the music industry
What should I expect from mentoring?
Co-Pilot mentors are volunteers and play a wide range of roles, including being a champion, guide, role model, professional friend, sounding board, thinking partner and bringing constructive challenges to mentoring relationships to help mentees transform their views, knowledge and learning.
Successful mentoring is a two-way learning relationship, where both the mentor and mentee get something out of working together. Mentors are not expected to share their contacts, open industry doors, create opportunities or deliver services to mentees.
Successful mentoring partnerships can change lives by drawing out and developing talent, providing career development advice and the impetus for lifelong professional relationships but these benefits are not just for the mentees, there are huge advantages to being a mentor.
As a mentor you receive
An opportunity to develop your mentoring skills through training and an online package of resources, including a ​

'

coaching skills for mentors' workshop
A new learning experience to build your confidence, increase your self-awareness and develop your listening, leadership and collaboration skills.
An opportunity to share and gain knowledge with your mentee; strengthening your understanding of the music industry and how it impacts musicians
An opportunity to learn from other mentors and build your networks through regular peer-to-peer sessions.
Access to a dedicated mentoring team to support you and your mentee throughout your mentoring relationship
Friendship, rapport and a shared sense of purpose.
To mentor with Co-Pilot, you will be asked to:
Attend a compulsory welcome webinar
Read the Co-Pilot guidebook and watch the

4

induction videos
Meet your match during a

30

-minute chemistry session
Complete

8

hours of mentoring over

6

months (via one-to-one video conferencing)
Respond to a midpoint and final evaluation survey
Attend peer-to-peer networking opportunities (optional)
Attend expert practitioner webinars (optional)
Benny Bizzie – Co-Pilot Mentor
Where does the mentoring take place?
In order to make mentoring as accessible and as geographically inclusive as possible, Co-Pilot is an online network. Mentors and mentees can be located anywhere in the UK.
To apply, all participants must have access to the internet, a laptop or desktop computer, and be comfortable using video conferencing platforms and an online mentoring system to conduct matching, communicate and arrange mentoring sessions.
An online mentoring platform called MentorNet
The MentorNet messaging mobile app
Regular peer-to-peer sessions on Zoom
Mentoring sessions, arranged by the mentor and mentee, usually using video conferencing software
Ongoing support from Co-Pilot's mentoring team
There are 4 Co-Pilot mentoring groups each year, with matching taking place every 12 weeks. Once your application has been accepted, you will be provided with full details of the next intake and be informed of the next available mentoring dates.
Applications for mentors are always open.
Before mentoring begins, mentors are expected to attend a welcome webinar, read through the Co-Pilot guidebook and watch the induction videos.
The recruitment, training and matching process takes roughly 3 months, and once you're matched, you'll attend a chemistry session with your mentee before starting your 8 hours of mentoring over 6 months.
| | | |
| --- | --- | --- |
| Stage | Activity | Timeline |
| Stage 1 | Recruitment, Training and Matching | 3 months |
| Stage 2 | Mentoring Sessions & Midpoint Evaluation | 6 months |
| Stage 3 | Final Evaluation | 1 month |
It is important that mentors get the most valuable match based on their skill sets. If a suitable match cannot be found during the first round of matching, we may move mentors to the next mentoring group as a more suitable match may be available. We will endeavour to match everyone with the most appropriate match, but we may not be able to find a suitable match on every occasion.
If you have a disability which means that you cannot fill in the application form, please contact the team at Help Musicians by emailing mentoring@​helpmusicians.​org.​uk with the subject​'access enquiry'.
What happens after I apply?
You will receive a confirmation email once you submit your application. If you haven't received this, please get in touch with mentoring@​helpmusicians.​org.​uk and we will check for you. You will be notified of your acceptance into the network within four weeks of submitting your application.
If something has changed in your plans after having submitted your application, please let the mentoring team know as soon as possible by emailing mentoring@​helpmusicians.​org.​uk
Please ensure that you have read the guidance in full and that you are able to commit fully to this mentoring network before applying.