Help with your application for creative support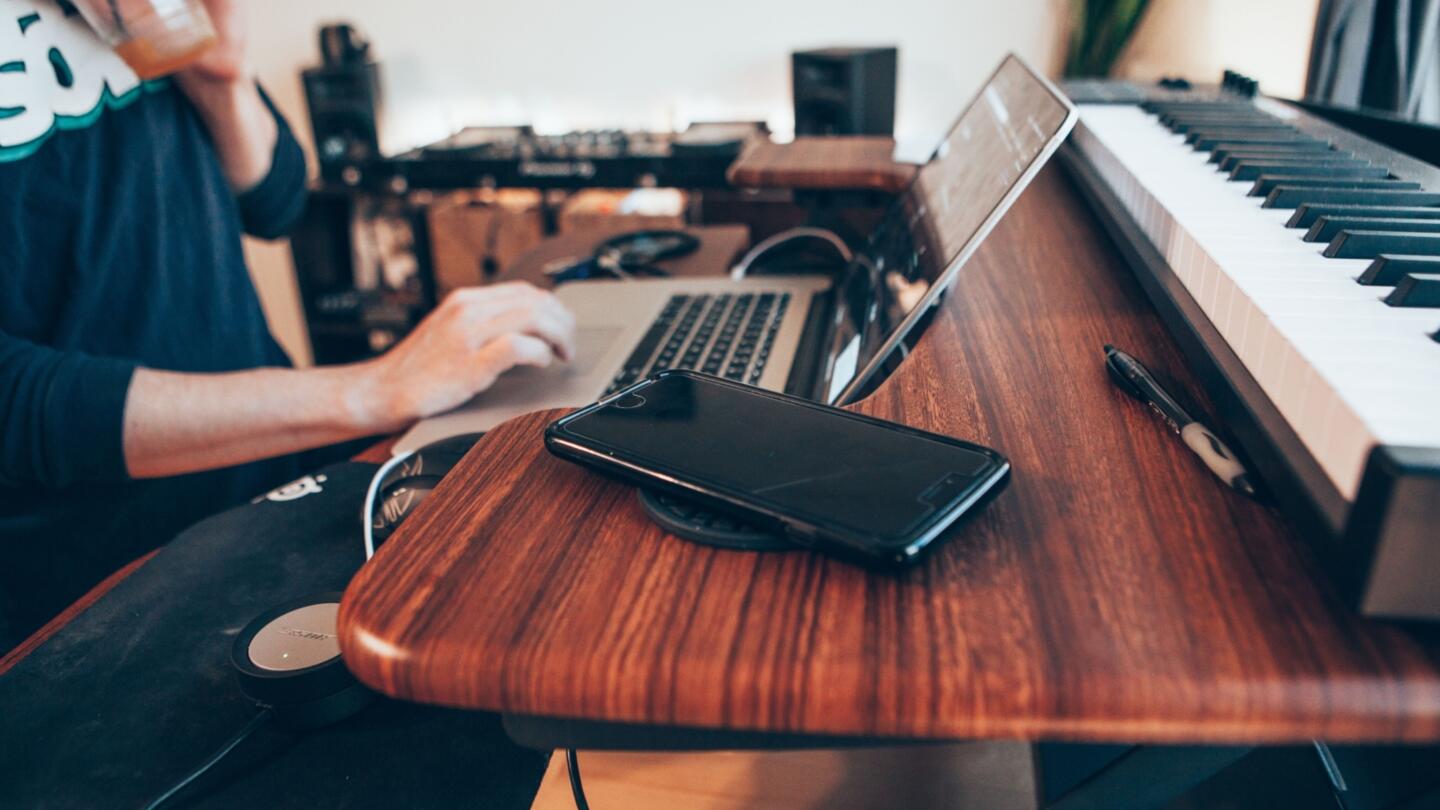 Advice and guidance to help you with your application
Many of the questions in the application form are quick and easy to answer. Some will take a bit longer, and require a bit more depth. Here are some guides to help you through the more detailed questions.
Your biography is your moment to shout about your music and career so far. In order to assess what you've achieved, we'll want to know about your background. This isn't just a straight copy & paste of your press release; write it in first person, be as clear as possible and remember, the more examples you can give us the better.
Areas to consider telling us about are:
Career highlights — What are you most proud of?
Performances — Where have you performed? Has your music been played somewhere significant?
Collaborations — Who have you worked with?
Details to consider telling us about are:
Tours
Festivals
Showcases
Commissions
Recent reviews
Qualifications
Your success so far
Why is this project crucial now?
If you are applying for Postgraduate, Ian Fleming Musical Theatre or Sybil Tutton Opera support, you should consider including the following:
Where have you studied and who with?
Have you taken part in any competitions?
Have you attended any masterclasses?
What repertoire have you performed or worked on?
Who have you collaborated with?
Have you performed with any ensembles/​chamber groups/​bands/​orchestras?
What opportunities have you embraced so far throughout your studies?
What opportunities have you embraced outside of education?
You should detail your key achievements and let us know whether you are already earning an income through music related activity such as teaching, performing or community music work.
Alongside your career highlights and notable achievements, you should elaborate on the ways in which you've been self-sufficient (for example self-managing, self-releasing or self-producing) and how this has benefitted your career to date. Has this approach given you more creative control? Has it allowed you to retain ownership of certain rights or revenue stream? This section has a 500-word limit, you should use this as a guide as to how much you should write in this section.
Writing about key milestones
Your key milestones should act as a timeline for your proposal. This section should detail the steps you will take to complete your activity.
You should include any pivotal, key moments to your planned activity, such as:
Approach musicians/​producers

Rehearsals

Recording at the studio

Send release to reviewers

Release album
Example: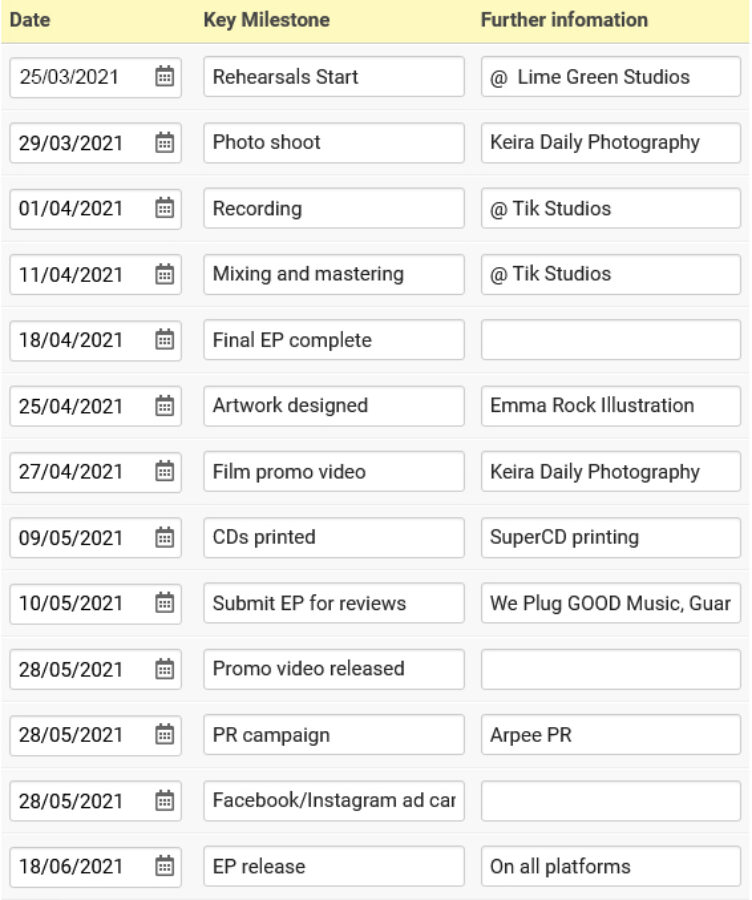 This timeline should act as a plan for your next 12 months. It should be as accurate and realistic as possible, but we understand that things may change later down the line – so don't worry if this happens! You should aim to give us between 4 – 10 milestones and make sure the dates you mark are realistic and achievable – we will be marking you on this!

Writing a summary of your creative activities
You've already given us a short description of your proposal, for example ​"a 6 month UK tour". Now is when you can get into the details of your ideas and tell us why our support is significant to you and your career. Give as much detail as possible and tell us why now is the right time for you and your creative activities.
Timescales — You've already given us a timeline of your activity, now we want to know why you've chosen this timeline and why now is the right time for your planned activity.
Who are you working with? — Are you working with studios, sound engineers, other musicians, lecturers?
Why are you working with the people and companies you've selected? — Why that specific studio? What does that sound engineer bring to your music? Why those musicians? Are they the best in their field? Do they have a resonance with your local music community?
Where will the work take place? — Will you be touring the UK, which locations and why? Why that studio?
Feel free to bullet point this section – but don't skimp on the detail! Put it in chronological order, and tell us about the people involved, the dates and the rates. The panel will expect to see as much detail about your activities as possible, so use the word count/​video length approximations to your advantage. You've already told us how you've been self-sufficient to date in your first question. Will you be similarly self-sufficient in this upcoming activity? Let us know how!
It's worth noting that some applicants feel they can verbally communicate more about their plans in two minutes than they can in 500 words of text. If this sounds like you, read our blog on how to submit a video application here.
Writing about the impact on your career
The​'impact on your career' section is where you help us understand why your proposed activity will be an important step for your career at this point. This is your chance to explain what you are trying to achieve in the short and long-term, and how this proposal will benefit your progression as a music creator. If applying for Record and Release, MOBO Help Musicians Fund or Touring and Live support, you will also be asked to describe the desired impact of the business advice sessions to which you would be entitled. These sessions form an important part of these support strands — to read more about the options on offer, and to make an informed decision about your preferences, please read our blog. You may find it difficult to predict the specific outcomes of business advice sessions for your project, but you can strengthen your application by telling us, in detail, the reasoning behind your chosen preferences.
Think about what the impact will be during the activity:
What impact will this funding have?
What skills will I learn, and how will I use these going forward?
For business advice – why is this topic of particular relevance to me, the current stage of my career, and/​or the success of my proposed activity?
Think about what may happen once the activity is over:
What measurable impact do I expect to see, eg increase in social media following, higher ticket sales, etc?
What other opportunities may arise from this?
To what extent may the activity have a future beyond the timeline of this application?
For business advice – how might I maximise the impact of receiving advice on these topics? How might advice in these areas impact my career in the long term?
We know a budget can be tricky, but it's also incredibly useful for focusing and understanding your plans. Use your timeline as a prompt while you work through this, making sure you account for all costs at each step.
This is where you itemise where all the required funds for your activities will come from. This will include the amount you are requesting from Help Musicians, as well as any personal income or revenue from other sources.
You might find it useful to create a rough draft of your expenditure first (see below), so you have an idea of how much funding you need before you start.
Start with the amount you are requesting from Help Musicians

Calculate how much personal income you and your band (if applicable) are prepared to put in

Include any other revenue sources— awards, grants, ticket sales, album sales, merch sales, etc. These can be estimates if you are not sure what the exact figures will be
Indicate in the Notes field whether or not the funding is confirmed. While it is of course a bonus to have all your funding confirmed, don't hesitate to include funding which is still pending. This demonstrates to the panel that you have identified realistic avenues through which to obtain the funding you need.
Example:

This is an itemised and costed list of everything your budget will be spent on. Make sure your costs are based on recent research and include names of key collaborators where you know which people/​organisations you will be working with. Your expenditure total should equal your ​'funding sources' total so you have a complete budget. Equipment costs should not make up more than 50% of your total ask from Help Musicians.
Check through your timeline, and compile a full list of what you will need to spend money on at each stage.

Research costs, get up-to-date quotes for everything, and include these along with the name of the company or collaborator you will be working with.

Clearly indicate which items will be covered or part-covered by support from Help Musicians.
Example:

Writing your risk assesment (Touring & Live)
Applying for support for live and touring activity requires adaptability, creativity and contingency planning.
Risk assessment and mitigation planning is vital at the best of times when planning a tour or, live project — let alone, in the current climate. Whilst we adjust to the live touring scene post-Brexit and keep tabs on Covid 19 restrictions across the world, the very nature of what it means to ​'get on the road' and the means through which we can do this requires adapting. But how can you plan for this?
What does contingency mean?
Contingency is essentially having a back- up plan or a buffer to a fall back on just in case anything unexpected occurs. By this we mean planning some extra time just in case your activity takes longer than anticipated, or having some extra money put aside in your budget for any unexpected costs.
What do you mean by mitigation?
Mitigation means what steps will you put in place to ensure any risks are minimised. How might you resolve a situation should any of the risks you have identified arise.
Help Musicians want to support you in your project planning to conduct safe and informed decision-making around the live performance and conditions of the industry.
When applying for support towards touring and live activity, you will be asked to fill out a risk assessment template. This will ask you to consider the potential risks, impact, likelihood and consider how you might resolve or minimise these risks.

Firstly, consider the types of risk. Please consider any events or external factors that may impact the delivery of your project.
Questions to consider
How could health and safety measurements due to COVID-19 cause risk to my project?

Does my budget factor in contingency costs? We recommend setting aside 5 – 10% of your budget for unexpected costs.

Have I researched the appropriate VISAs I will need when touring?

Is this feasible within the 12-month timeline?
Remember to be realistic but not overly cautious. When filling out this form, there's no need to list off every single potential risk (for example, a traffic jam causing you to be late for a show), rather it is a chance for you to assess your project and determine the controls you need to put in place to ensure your success. It is also helpful for us to see that you have put a plan in place should any of these risks arise.
To what degree do the risks impact your ability to fulfil this project within the 12-month funding period? How detrimental would this risk be to your project? Use the scale of 1 (low impact), 2 (medium impact) and, 3 (high impact) to assess.
The impact of this risk is low and easily mitigated
A medium risk that may need addressing in the mid-term and managed appropriately
A detrimental risk that needs addressing in the short term and closely managed
How likely are these risks? In 2019, we may have calculated the risk of a global pandemic as relatively low. This illustrates the difficulty many musicians find when asked to calculate the probability of the risk itself. When calculating this, we recommend talking to your network, the chances are that other people have been considering similar risks and you might be able to help each other by sharing your experiences.
Use the scale of 1 (low likelihood), 2 (medium likelihood) and 3 (high likelihood) to assess:
Low
Medium
High
What plans will you put in place to either avoid these risks or ensure they don't stop your project going ahead? In this section, describe in detail, the mitigating actions you would put in place to avoid these risks impacting your project.
Examples include:
Equipment lost or, stuck at a border control –Insure all equipment and build 10% contingency plan in the budget to cover this.
Change in VISA requirements post-Brexit — Research and take advice on all VISA requirements before setting off on your tour
Burnout on the road or, performance anxiety – Realistic scheduling and wellbeing plan integrated in timeline.
This template should be considered a working document and we would expect to see this develop as your activity progresses.
Adaptability: With some fans hesitant to return to live music environments, consider hybrid means of connecting with your fanbase and new audiences, for example, via a live performance and, monetised live streaming concert series.
Plan: Designing a bullet proof mitigation strategy prepares you for the inevitable obstacles of someone getting sick on the road, equipment issues or the Wi-Fi dropping during a livestream.
Evaluate as you go: The risks will evolve as your project does, remind yourself to keep evaluating and assessing throughout your project timeline. Explore further advice from the Musicians' Union.
For advice around Visas and entrance requirements, sign up for 30 minutes free advice through Viva La Visa.