Record and release
Support towards creating your next release and getting your music out into the world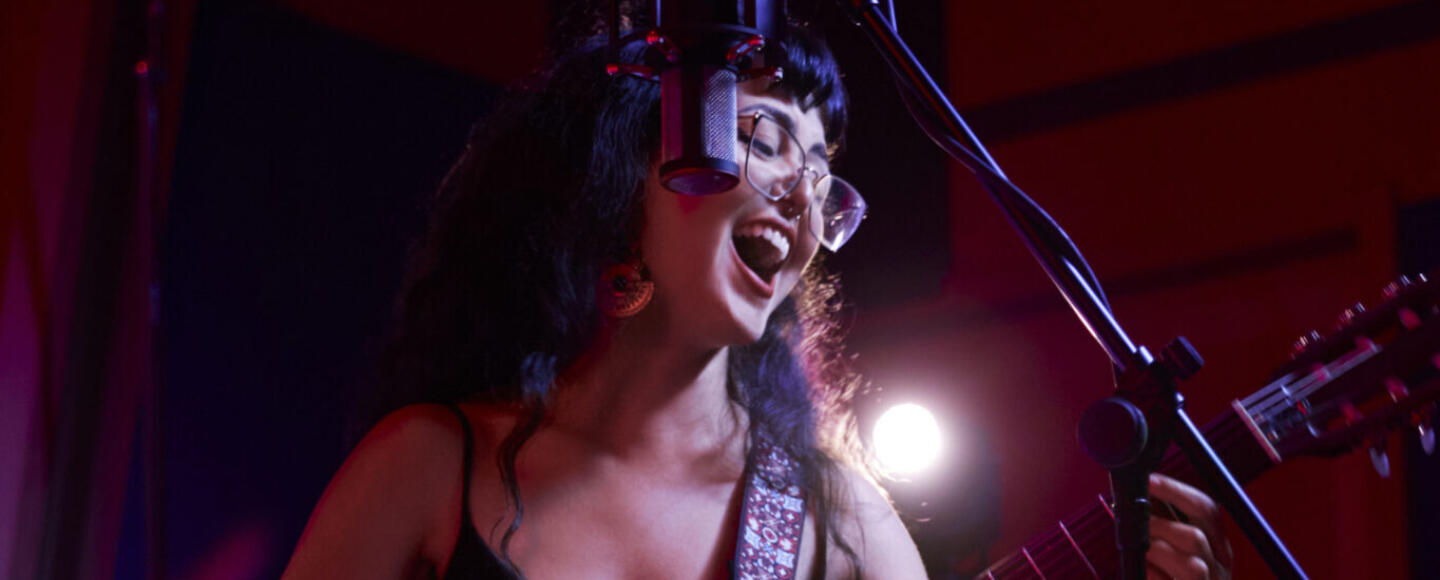 Help Musicians can support you to create new music and share it with the world. Whether it's studio time, mastering, or promotion around a release, we can help you to record and release your music.
This support focuses not only on your music creation, but on your wellbeing and long-term business development.

up to £3,000 in financial support towards creative output

one-to-one business advice sessions tailored to your needs and delivered via experienced music industry professionals

personal health consultation with British Association for Performing Arts Medicine (BAPAM), covering all aspects of your physical and mental health, with specialist referrals where required
This support is for professional UK musicians of all genres and disciplines, with a focus on independent music creators who are controlling one or more aspects of their career.
You can be a solo artist, composer, group member, songwriter, producer or a multidisciplinary artist.
To apply, you must:
Deliver your supported activities within

12

months of accepting the grant. Please

note, your activity should not start any earlier than three months from the

submission of your application

Be aged over

18




Be in financial need without significant backing (i.e. not receiving

significant financial backing from a label, publisher or private investor, and

not having £

16

,

000

+ in savings)


Have control over one or more aspects of your career (e.g. self-managing, self-

releasing or self-producing)




Already have an active career and be able to clearly demonstrate your work to date



Have the right to live and work in the

UK

Currently be living in the

UK

Have a

UK

bank account

---
If applying as a group:

At least

50

% of members must meet the criteria as above, including the lead applicant


You must have been established and playing together regularly for at least one year



Your budget of up to £3,000 might go towards some of the following:

Time to create (writing, composition, rehearsal)

Session musician fees

Recording (studio hire, engineering, mixing, mastering)

Content creation (video, audio, promotional photography, artwork, design, etc)

Manufacture and distribution

Merchandise (design and production)

PR

&

Marketing

Musical equipment or software/​hardware to produce, collaborate or distribute*
*Equipment costs should not make up any more than 50% of your budget. Please note we are unable to fund the purchase of musical instruments, including laptops.

As part of this support, you'll receive six hours of dedicated one-to-one business advice from industry experts to help you to shape or rethink your business plans.
You may be wondering how to promote your next release, be looking to find new ways to distribute your music or build an online fanbase.
We'll pair you with up to two expert business advisors who can help you with a range of topics.
You can choose the topics of expertise that would suit you best when making your application, including:
Branding, marketing, and social media
Career development and achieving your goals
Digital commerce including ​

'

direct to fan' sales and streaming
Finances, taxes, and self-employment
Funding
Legal and contracts advice
Music business strategies (publishing, distribution, promotion, and licensing)
Navigating careers in specialist music genres
Publishing and Royalties
Touring and Live
Project Management
Through our partnership with BAPAM, you'll be able to explore your own health practice, identify and develop achievable health goals, plan a schedule that helps you develop your career sustainably, and access expert clinical help for any performance-related conditions. This is available at any time during the duration of your grant.

Further support for your wellbeing, physical and mental health is always available.
Here are the activities that we can't currently support through this fund:
Activities that take place within

3

‑months of a submitted application
Activities that are not primarily music or career development focused
Formal courses of study, training or research (e.g. undergraduate or postgraduate study). Find out more about how we can support this
Attendance as a performer at showcases already supported by funds like the International Showcase Fund (e.g.

SXSW

,

CMJ

, A

3

C, Womex, Reeperbahn, Folk Alliance International, Canadian Music Week)
Ongoing overheads, for example rent, utilities and insurance

Buying or insuring vehicles
Costs associated with entering competitions
Activities that have already occurred (we can't fund retrospectively so please check the deadline dates)

Equipment costs that make up more than 50% of the total request from Help Musicians

Costs relating to the purchase of musical instruments (including laptops) and/​or the upgrade/​maintenance of existing instruments
Although we won't exclude applications that are asking us to contribute to a wider project, this support shouldn't be seen as

a top-up fund for larger funding bids. By top-up funding, we mean supporting less than 10% of a total budget.
Please note that if you have received financial support from this fund or the MOBO Help Musicians Fund in the last 12 months, then we will be unable to support a new application for recording and release activity at this time.
Yes. You can apply for this as part of a larger application of up to a total of £5,000.
The maximum amount for each type of support is as follows:
There is high demand for this support, and in 2022 the charity was able to support around one in five applications from the funds available. We do understand that this process can be challenging, and we are here to support you, but due to the volume of applications our guidance cannot guarantee a successful outcome.
Support to grow through training, mentorship or other learning opportunities


Support towards taking your performance to the stage and bringing it on tour