Skills and professional development
Support to grow through training, mentorship or other learning opportunities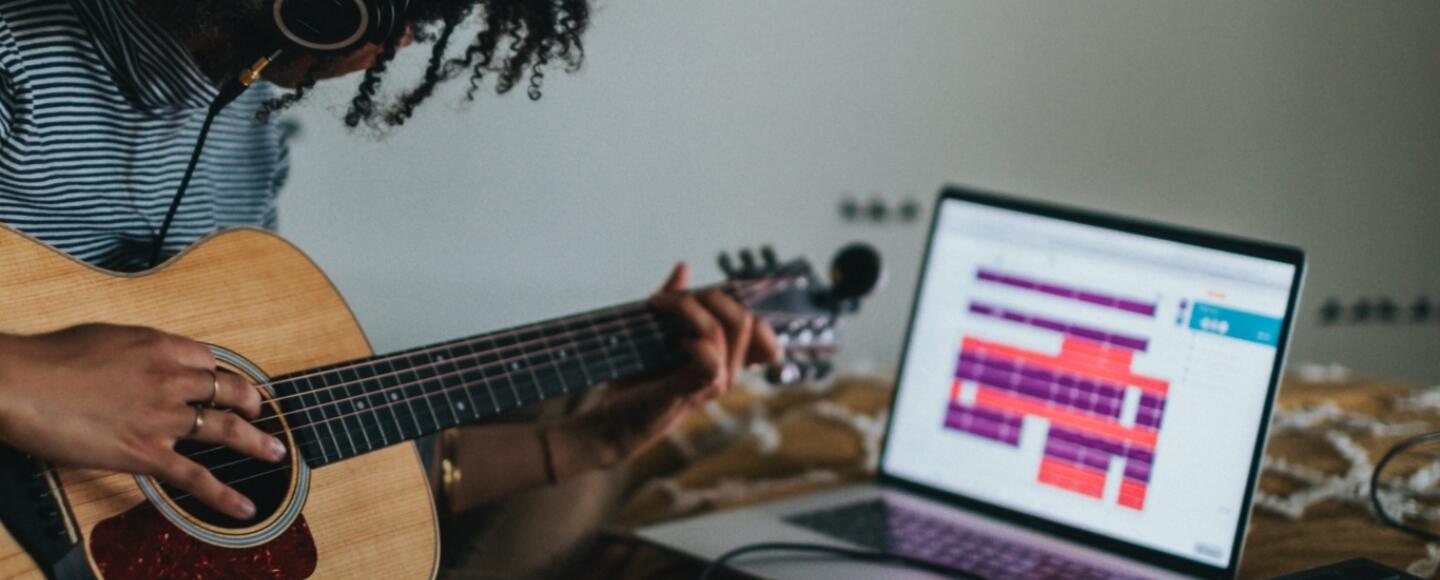 We can provide up to £1,500 to help you enhance your skills or artistic practice. Whatever your circumstances and ambitions — you can apply for support that is specific to your career needs.
This can be anything from a conference to learn more about the industry, to a course to enhance your skills; from one-on-one coaching to some time with a mentor.

This support is for professional UK musicians of all genres and disciplines, with a focus on independent music creators who are controlling one or more aspects of their career.
You can be a solo artist, composer, group member, songwriter, producer or a multidisciplinary artist.
To apply, you must:
Deliver your supported activities within

12

months of accepting the grant. Please

note, your activity should not start any earlier than three months from the

submission of your application

Be aged over

18




Be in financial need without significant backing (i.e. not receiving

significant financial backing from a label, publisher or private investor, and

not having £

16

,

000

+ in savings)


Have control over one or more aspects of your career (e.g. self-managing, self-

releasing or self-producing)




Already have an active career and be able to clearly demonstrate your work to date



Have the right to live and work in the

UK

Currently be living in the

UK

Have a

UK

bank account
---
If applying as a group:

At least

50

% of members must meet the criteria as above, including the lead applicant


You must have been established and playing together regularly for at least one year



You can apply for up to £1,500 to take up opportunities that enhance your skills, career or musical practice.
This could be a conference to learn more about the industry, an online course to enhance your performance skills, growing new abilities or perhaps some time to work with a respected peer.

Examples of this include:
Online or in-person courses,

1

:

1

coaching sessions, fees to attend virtual conferences, song writing academies and masterclasses.
Short periods of training with a leading professional in your field to improve your creative practice and skills.


Short periods of intensive learning or skills development exploring new technologies, in order to support and adapt your practice or performance in music.
Short periods of mentoring support and advice ahead of an important career opportunity or transition
Here are the activities that we can't currently support:
Activities that take place within

3

‑months of a submitted application
Activities that are not primarily focused on developing a career as a musician
Activities incurred as part of a promotional campaign (this includes

PR

, production of merchandise, creating music videos, manufacture and distribution etc)
Formal courses of study, training or research (e.g. undergraduate or postgraduate study). For information on how we can support this, please visit Support your Studies
The continuation of regular one-to-one lessons
Attendance as a performer at showcases already supported by funds like the International Showcase Fund (e.g.

SXSW

,

CMJ

, A

3

C, Womex, Reeperbahn, Folk Alliance International, Canadian Music Week)
Costs associated with entering competitions

Although we won't exclude applications that are asking us to contribute to a wider project, this application shouldn't be seen as a top-up fund for larger funding bids. (10% of your total budget or less would be considered as top-up funding)

Purchase of musical equipment, production and composition software/​hardware, performance related technology
Yes. You can apply for this as part of a larger application of up to a total of £5,000.
The maximum amount for each type of support is as follows:
There is high demand for this support, and in 2022 the charity was able to support around one in five applications from the funds available. We do understand that this process can be challenging, and we are here to support you, but due to the volume of applications our guidance cannot guarantee a successful outcome.
Support towards creating your next release and getting your music out into the world

Support towards creating and promoting music of Black origin